Ireland to get €12bn Intel investment, but not new European fabrication plants
Intel will not be building a series of planned new huge European chip manufacturing facilities in Ireland, with the semiconductor producer opting instead to construct them in Germany and Italy.
But Intel said it will be investing a further €12 billion between now and the end of next year on completing its currently under construction "Fab 34" plant in Leixlip, Co Kildare.
The investment, coupled with €5 billion that has already been spent on the facility to date, will lead to a near doubling of the total amount of capital spent by Intel in Ireland since it first set up here in 1989.
Intel is planning to significantly increase its chip production capacity in Europe over the coming decade as part of an EU plan to double the bloc's current market share of global chip manufacturing to 20% by 2030.
Ireland had been competing with a number of other European countries for the investment and last year, Intel CEO Pat Gelsinger told RTÉ News that this country was on the short list of potential locations to win the new facilities.
It was reported that a greenfield site in Oranmore in Co Galway was one of a number under consideration by the company.
But speaking in the US today, Intel CEO Pat Gelsinger announced that two first-of-their-kind semiconductor fabs are to be built in Magdeburg, Germany between now and 2027, at a cost of €17 billion.
Those projects will create 7,000 construction jobs and 3,000 permanent high-tech roles.
In Italy, the company is to construct a new back-end manufacturing facility with a potential investment of up to €4.5 billion.
This factory would create approximately 1,500 new jobs plus an further 3,500 jobs across suppliers and partners.
The new "Fab 34" plant in Leixlip, which is currently being fitted out, will lead to a doubling of its manufacturing space in this country.
It will bring Intel 4 process technology to Europe and expand its foundry services, through which the company is to manufacture chips on behalf of other companies for the first time.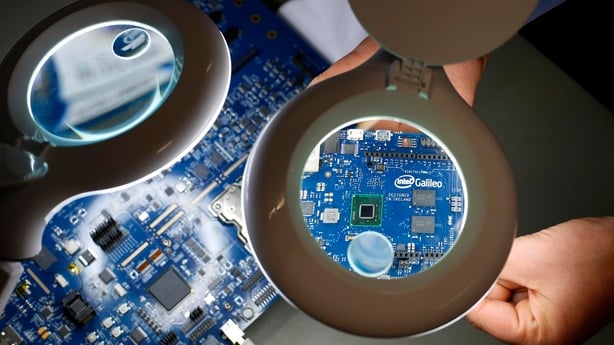 "For over 30 years Ireland has been the flag-bearer of Intel's European manufacturing presence and with this renewed investment in the region we remain at the very centre of our company's global ambitions," said Eamonn Sinnott, Vice-President and General Manager of Intel in Ireland.
"This is the strongest possible evidence of Intel's deep commitment to Ireland. It is remarkable to think that the €17 billion we are investing in this five-year period is double our total investment in Ireland over the previous 30 years," he added.
Last year Intel said it had already spent €5 billion on the new Fab over the previous three years and that when it is complete it will employ 1,600 new full-time staff, bringing its total direct employment in Ireland to 6,500.
5,000 construction jobs have also been created in the building of the new Fab 34.
"Furthermore, an analysis by PwC shows that, once this latest phase of construction is complete, our presence in Ireland will contribute €2.75 billion to the economy annually," Mr Sinnott said.
"We are proud of the contribution that we are making to the community and economy here in Ireland. And as the EU seeks to double its share of global microchip production over the next decade, Intel and Ireland are positioned in the vanguard of that strategic campaign," he added.
CEO of Intel, Pat Gelsinger spoke with the Taoiseach and the CEO of IDA Ireland ahead of today's announcement in Brussels.
Speaking in Washington DC, Taoiseach Micheál Martin said the announcement underlines the importance of Intel's operations in Ireland and their commitment to the country.
"Investing a further €12 billion, on top of the €5 billion previously announced on its new facility brings the overall investment by Intel in its site here to €30 billion.
"This very significant show of confidence, in Ireland and in our talented and skilled workforce, is a strong endorsement of our offering to investors," he said in a statement.
Speaking in New York, CEO of IDA Ireland, Martin Shanahan described the scale of the future investment in Ireland announced today by Intel as "remarkable".
"The further €12 billion investment will have a profound impact on the Irish economy in the coming years.
"This investment comes on the back of the €18.7 billion invested by Intel since 1989, €5 billion of which has been invested since 2019," Mr Shanahan said.
Mr Shanahan said it is clear that Ireland remains "integral" to Intel's European and global plans.
"Intel's campus in Leixlip is home to one of the largest industrial construction projects in Europe, and will house some of the most complex manufacturing facilities in the world.
"Once the facility is operational, employment in Intel Ireland will stand at 6,500.
"The global environment for attracting investment is extraordinarily competitive. Ireland has to continue to drive competitiveness across all aspects of our value proposition," he added.
Engineers Ireland has welcomed Intel's announcement, saying the company has played a "critical" role in Ireland for more than 30 years.
"Intel has long been a supporter of Ireland, and we very much welcome Intel's announcement that it will invest a further €12 billion between now and the end of next year on completing its 'Fab 34' plant in Leixlip, Co Kildare," said Professor Orla Feely, President of Engineers Ireland.
Ms Feely pointed out that Intel has supported Irish women at the top table, such as Executive Vice President Ann Kelleher and Engineering Factory Manager and Vice President Ann-Marie Holmes.
"Women make up around 23% of engineering graduates in Ireland, but we need greater representation in the sector.
"Therefore, Intel's Chief Executive was right to point out last September that we need more female engineers in Ireland," she added.
Intel also announced today that it is to build a new research and development hub in Plateau de Saclay in France, creating 1,000 new jobs.
France is to become Intel's European headquarters for high performance computing and artificial intelligence design capabilities.
While in Gdansk in Poland, Intel is increasing its lab space by 50% with the expansion expected to be completed in 2023.
Barcelona Supercomputing Center and Intel also plan to establish joint labs in Barcelona to advance computing.
Source RTE