Official commencement of major €166 million project for Rosslare Europort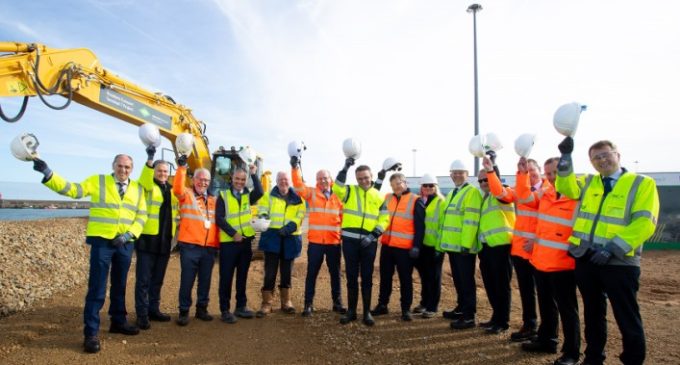 A sod-turning event has taken place to mark the commencement of works for Rosslare Europort Terminal 7 and enabling works. These upgrade works are necessary to provide permanent Brexit infrastructure at Rosslare Europort to ensure compliance with EU Customs, sanitary and phytosanitary (SPS) and official food controls legislation, thereby providing protection for the EU single market.
The Rosslare Europort Terminal 7 and Enabling Works project will see a new terminal built and a new Border Control Post set up. Works will include the demolition of existing buildings and construction of 28 new permanent buildings totalling circa 9,361 sq m. The Terminal 7 facility will facilitate the processing and exit routes from the passenger and freight ferries that use Rosslare Europort. The construction works will cost approximately €166 million.
Following a competitive tender process, the Office of Public Works (OPW) awarded John Paul Construction the contract and work has commenced on site.
Minister of State with responsibility for the Office of Public Works, Patrick O'Donovan, T.D, said: "I am delighted to see that works have commenced on site now for this critically important State infrastructure in Rosslare Europort. The size of this project is vast – 28 new permanent buildings – and will provide the permanent infrastructure required for a new border control post and improved processing facilities at one of our largest and busiest ports in the country.
"The OPW has worked very closely with all State agencies and the Port Authority, Iarnród Éireann, to bring this project to this important milestone. Rosslare Europort continues to operate as a live operational port and the OPW, together with main contractor John Paul Construction are working closely and collaboratively with the port authorities to ensure that this immense construction project will proceed in tandem with the busy operations of Rosslare."
Liam Kenny, Managing Director at John Paul Construction, said: "This is not just a significant project for John Paul Construction, but for Ireland as a whole, given the role the upgraded port will play in a post Brexit euro economy. We look forward to working collaboratively with the OPW, the Port Authorities, and our local supply chain to deliver this nationally and regionally important infrastructure project."