One of Europe's largest Build To Rent Developments Hali Cherrywood launches new building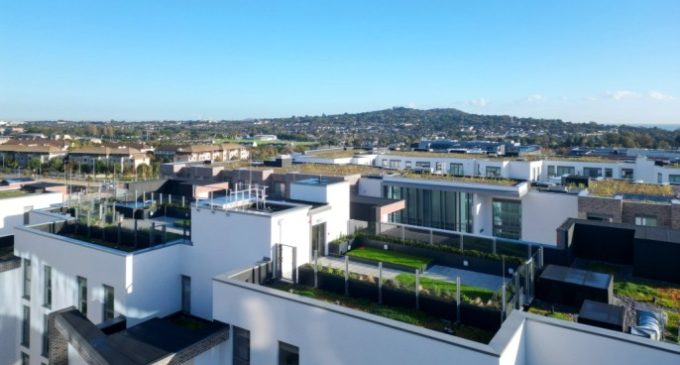 One of Europe's finest 'Build to Rent Developments' (BTR), Hali in Cherrywood, Dublin 18 has just released its latest phase of apartments, called 'The Harcourt' complete with a stunning elevated glass work-out zone called 'The Sky Gym'. Additionally, it offers exceptional work-from-home areas, vibrant social spaces, and abundant greenery with proximity to three stunning parks. Comprising of studio apartments and one, two and three-bedroom units this highly coveted development is one of the most sought-after developments to live in South Dublin.
Hali's stylish apartments are made up of ultra-modern, bright, and spacious studios, and one, two and three-bedrooms apartments. Dynamic architecture, slick interiors and well thought out external spaces has resulted in the creation of a contemporary, A2-rated, sustainable residential development.
There are plenty of exterior green spaces and with not one, but three public parks surrounding the development there is plenty of space to exercise, to walk the dog and to enjoy nature and the great outdoors. The shared amenities are in what are called 'Social Spaces and Club Houses' feature modern and spacious living spaces, Masterchef kitchens and dining rooms which residents can book out privately for a dinner party or gathering with friends and family at no extra cost. The amenity spaces can be booked through the Hali App, which also enables the residents to do all kinds of things such as logging a maintenance request or booking a fitness class.
With connected living and wellbeing at its core, Hali aims to provide its residents with the latest in smart security technology combined with amenities that add to their wellbeing, enhance their life, and enable them to become part of a vibrant community.  There are also a number of safety measures and protocols in place to make residents feel safe within the community. The residents can avail of complimentary Wi-Fi and TV packages, there are weekly wellness and fitness classes, and gyms, fitness studios, and saunas in each block -all complimentary for residents. Hali already features a wellness suite, comprising of an extensive gym, studios and saunas in their previous phases now adding to this, they are introducing their new Sky Gym in the Harcourt Building, which enjoys fantastic views across to Killiney and to the Dublin Mountains as well as state-of-the-art gym equipment, showers, locker rooms and saunas.
Collective Fitness, the trainers to some of Ireland's top athletes and rugby stars, has created a training programme for Hali residents which they can use in the various resident gyms on site. The programmes have been exclusively created for the residents at Hali and can be accessed free of charge through the Hali Resident App.
Conor Corcoran, Managing Director of Collective Fitness, said: "We have been working closely with the team at Hali to create and promote community-based fitness programmes for the residents which includes weekly group fitness classes and bespoke workouts which they can do in many of the onsite gyms including the spectacular new Sky Gym. Our training programmes are bespoke and match the equipment installed in the various Hali gyms which residents can easily follow via the Hali App.  Fitness, health, and wellness is the cornerstone of the Hali Community, and our experience has shown that well communities make happy communities!  Our group fitness classes help people connect, to work out together and to enjoy looking after both their physical and mental health.  We are excited to be an integral part of a development that puts the wellbeing of its residents first and foremost."
Hali, Cherrywood is led by its Canadian Managing Director, Benjamin Preece, a seasoned figure in the real estate landscape whose acumen has been honed across markets in Europe and North America. His vision is driven by the marriage of technology and hospitality, resulting in a unique living environment that places residents' comfort and convenience at the core of its operations.
Under Preece's leadership, Hali employs a unique and comprehensive approach to property management. This structure, integral to Hali's success, starts with fostering a strong internal team, viewed as the heart of their community. Uniquely, Hali's teams are fully internalised which fosters a cohesive understanding of the community's vision, enhancing the efficiency and quality of the development process and means that if something needs to be fixed or maintained the onsite team can deal with it themselves rather than waiting for an external provider.
Benjamin Preece commented: "We are thrilled to announce the launch of 'The Harcourt', marking the next exciting phase in our journey. It's great to see the Hali community continue to grow, and we look forward to welcoming even further residents in December this year and further residents into 2024. As part of 'The Harcourt,' phase we are also very excited to unveil the Sky Gym, a cutting-edge amenity that promises to elevate the wellness experience for all of our residents alongside other exceptional dynamic social spaces."
Rebekah Lavelle, Director of Marketing and Innovation, said: "Hali is a thriving and tightly-knit community, by having amenities and services at scale, it creates a strong sense of unity and ample space for our residents. We've implemented a robust engagement programme that actively seeks input from our residents, inviting them to share their interests and preferences for events and activities. Their feedback has overwhelmingly highlighted a keen interest in health and wellbeing, leading us to introduce complimentary weekly offerings like yoga classes, mindfulness discussions, and even vegan cooking lessons."
For those wishing to work from home, co-working areas on the ground floor of each residential block include focus booths for phone or video calls as well as relaxing breakout rooms and lounge spaces.  The enterprise level Wi-Fi and various meeting and conference rooms allow for a very efficient working from home environment and gives residents an option of working from home but in an office environment and away from their apartment.
Business collaborations have been created with various local providers including Whelan's Wines and Eleven Restaurant. Meanwhile, partnerships with brands and services such as TULO, MyPUP and YUKÕ car share mean that residents can easily hire domestic equipment, a printer for their home office or even book a shared car.
Hali, Cherrywood is currently home to just over 1,200 residents and the community-oriented space currently hosts a variety of services and will soon expand its offering to have even more restaurants, cafes and shops. Tesco Express is due to open soon, and presently open there is The Grafton Barbers, Once Upon a Time Creche, Zambrero Restaurant, Chroi Coffee Shop and 'TRIB3', a boutique global fitness community.
The green Luas line is directly adjacent to Hali which brings residents into the city centre in approximately 40 minutes and is only a 15-minute Luas ride away from Sandyford and Dundrum Business Districts.