Clare-based Engineering Firm Opens Dublin Office to Support International Expansion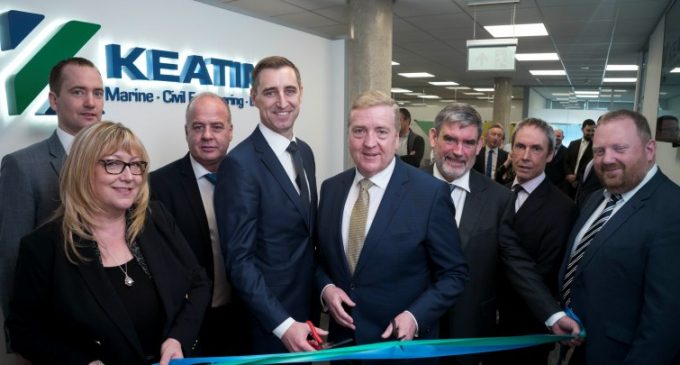 Keating, formerly L&M Keating, has opened its new Dublin office at Park West Business Park. The Clare-based company specialises in marine, civil and building engineering working on significant infrastructure projects in Ireland and UK.
Minister of State for Trade, Employment, Business and EU Digital Single Market and Data Protection, Pat Breen TD, officially opened the Dublin office, which also coincides with a company rebrand, marking an exciting investment phase for Keating.
Gordon O'Regan, CEO of Keating, is confident in the future for Keating. "Because of our technical and niche marine engineering expertise, we have been attracting more projects from markets outside of Ireland, particularly across the UK.  Our new office in Dublin allows us to engage more easily with international clients."
Gordon O'Regan added: "Over the past 30 years we have built a reputation for being one of the leading engineering contractors. In recent times, we have expanded our portfolio to include complex and difficult projects in civil engineering, building, marine and heritage, which have helped highlight our expertise in delivering significant work. So, Keating is in a very strong position for the future."
Speaking at the opening, Minister Breen said: "It is very heartening and exciting to see a company from Clare competing and winning on national and global stages. It has been providing highly skilled jobs in Kilmihil and the surrounding region for over three decades. The Government recently launched its Regional Enterprise Plan for the mid-West to encourage more companies to establish themselves in more rural regions. Keating is a fantastic example of how this can be achieved and highlights the benefits to both the locality and companies themselves."
Gordon O'Regan continued: "We remain very much committed to our Clare roots and our head office will remain located in Kilmihil. We have always been fully supportive of the development of rural Ireland and support the Government's plan as set out in Ireland 2040 for the development of sustainable regional economies. Our success demonstrates the positive impact that investment and growth can have on rural Ireland, positively impacting jobs and training."
As well as its offices in Dublin and Kilmihil, Keating also has offices in Cork and recently opened an office in Winchester, Hampshire in the South of England, reinforcing its expansion into UK market.
CAPTION:
Pictured at the official opening of Clare-based Keating's new office with Minister of State for Trade, Employment, Business and EU Digital Single Market and Data Protection, Pat Breen TD (l-r): Carolyn Dodson, Richard Browne, Jim Kelly, Gordon O'Regan, Louis Keating, Brendan Phelan and Lorchan Hoyne – all Keating.