Opening of Stephenstown Link Road in Balbriggan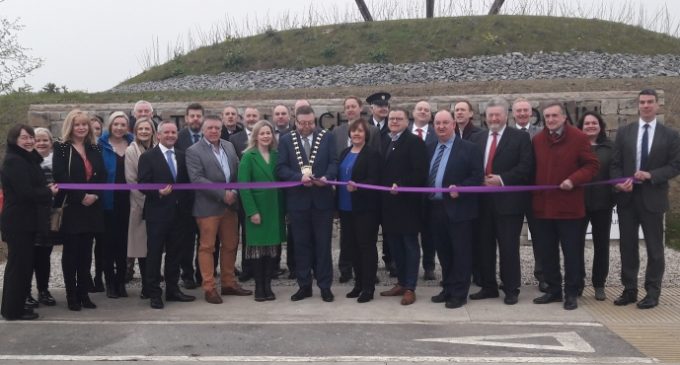 The Stephenstown Link Road, constructed by Jons Civil Engineering, has been officially opened with Mayor of Fingal Cllr Anthony Lavin cutting the ribbon on this key piece of infrastructure development within Balbriggan. The new Link Road in Stephenstown Industrial Park runs from the existing roundabout on the Stephenstown Road to a new roundabout on Clonard Street Road, linking to the back of Millfield and on to the Naul Road. The project included the construction of footpaths, cycleways, foul and surface water drainage, public lighting and utility services.
Fingal County Council's investment in the Stephenstown Link Road opens up almost 23 hectares of industrially zoned lands for development with the potential to bring approximately 900 new jobs to the area.
Balbriggan is only 20 minutes from Dublin Airport and 25 minutes from Dublin Port. The M1 motorway is two kilometres away from Stephenstown Industrial Park while the nearby M50 makes much of the rest of the country highly accessible and the park a highly attractive environment to potential investors.
A number of thriving businesses have already made their home in Stephenstown Industrial Park including EEC Hardware, one of Ireland's top Builders Merchants; Tierney Kitchens specializing in fitted kitchens and bedrooms along with Rockabill Shellfish Ltd, a family run Irish company specialising in live, fresh and frozen seafood products.
More recently these companies have been joined by Techcrete, one of the market leaders in designing, manufacturing and supplying architectural precast cladding in the UK and Ireland. Grimme Ireland Equipment Limited supports Grimme customers with Sales, Service and Parts. With more than 150 various machine types for the potato, beet and vegetable technology, the Grimme group offers the widest and most extensive product range in this sector and S. Duffy Plant Hire Ltd which was originally founded in 1986 to service the construction industry now specializes in the needs of rail work.
Cllr. Anthony Lavin, Mayor of Fingal County Council, said: "The completion of this Link Road opens up almost 23 hectares of industrial lands which has the potential to bring 900 jobs to the area and will realise social, community, commercial, economic and family benefits for the town of Balbriggan."
Paul Reid, Chief Executive of Fingal County Council, said: 'The Link Road is another example of Fingal County Council's commitment to investing in high quality industrial lands for development thereby creating the potential to bring substantial additional jobs to Balbriggan and enhance the quality of life of potential employees many of whom will live only minutes away while enjoying a harbour town setting."
CAPTION:
Mayor of Fingal Cllr Anthony Lavin officially opens the Stephenstown Link Road in Balbriggan. Also in attendance were Paul Reid, Chief Executive Fingal County Council, local Councillors Deputy Mayor Gráinne Maguire, Cllr. Tony Murphy, Cllr. Malachy Quinn, Cllr. Cathal Boland, Cllr. Tom O'Leary, Senator James Reilly, Senator Lorraine Clifford-Lee as well as members of the Balbriggan Chamber, Jons Civil Engineering; O'Connor Sutton Cronin Engineering, Superintendent Anthony Twomey and local business owners.